News & Updates
October 1, 2016
The Bargain, written by Sir Philip Sydney (1554-1586), read by Wyntner Woody
Brief, but lovely. 500 years after it was written, one may yet read it today as if it had been written yesterday.
My true love hath my heart, and I have his.
By just exchange one for the other given:
I hold his dear, and mine he cannot miss,
There never was a better bargain driven.
His heart in me keeps him and me in one,
My heart in him his thoughts and senses guides;
He loves my heart, for once it was his own,
I cherish his, because in me it bides:
His hear his wound receivèd from my sight,
My heart was wounded with his wounded heart;
For as from me on him his hurt did light,
So still methought in me his hurt did smart.
Both equal hurt, in this change sought our bliss:
My true love hath my heart, and I have his.
September 26, 2016
I'll turn to an American voice I love and admire: Myron Cohen.
Few under the age of 90 remember Myron Cohen (NB: I am well under 90). Called a stand-up comedian, he was, rather, was a master storyteller of comic intent. He played nightclubs, borscht belt resorts and small theaters billing at or near the top of the card.
It never ceases to amaze me. Performers of his era excelled in the quality of their performance and in the ideas they expressed without academic or conservatory training. Their training came from modelling themselves upon other acts and their own usually difficult experience of trial and error. And they had talent. Significantly, these performers were literate men, but self-educated and cultured in a way we do not see even from performers of today who are university or professional school graduates.
Myron Cohen was originally a garment salesman by profession. But just listen to his superb diction, flawless delivery, resonant timbre and perfection of accent mimicry. Not to mention his stage composure and minimal gestures, as well as the loving dignity of his expression. Do you see what I mean when I say that, in its own way, this is American "Shakesperean" in the best sense of the word?
September 7, 2016
I'll get to the American voices I love and admire shortly, but as I have started with Rachel Stirling, an English actress, I thought an English actor might be a  propos: Derek Jacobi.  Gosh, there are so many great voices to choose from.
Here, from Richard II, a 1978 BBC production I first saw on a small TV screen in a college library "media center."  It remains as electric a reading to me now as it was then.
Full, rich, open vowels, barely touched upon consonants, invisible breathing and a rich resonant timbre that handles a whisper as mightily as a shout that can fill houses — all supporting a wealth of meaning that is entirely persuasive for the character .  I only regret I have never seen the man perform live.
August 22, 2016
[This post is the first in an occasional series of voices I love to listen to and admire for their beauty and subtlety of expression.]
If you know me, you probably know of my admiration for many English theater voices, fine instruments in their own right and trained. There are just so many of them. Not to mention the Irish, the Welsh and the Scots. The UK just teems with high talent and they know how to select it, guide it and use it.
I saw, or rather, heard, Rachel Stirling for the first time in The Detectorists on Acorn TV and found myself gobsmacked, as they say, by the most beautiful contemporary female voice I have yet heard. The quality of subtlety in her expression, the consonants that disappear, are mere markers, allowing the open vowels to be carried along by a zephyr of breath…
Here is the lady speaking conversationally, beginning around 00:00:35. (Sadly, I could find no clip from the show). You can hear the natural beauty of the voice here (I see she is the daughter of Diana Rigg, another great voice), but not how she puts it to work. (And it has matured a bit since 2001 with even greater nuanced subtlety.  Any young actress interested in voice for theater, may I suggest it, or anyone interested in the beauty of the voice, ought to see episode 1 of The Detectorists.
August 16, 2016
There are as many ways to skin a cat, so to speak, as there are to read lines.   First, a dramatic reading of The Destruction of Sennacherib, from Byron's Hebrew Melodies (1815).
To show the flexibility of great language to a variety of reading styles, here is another recording of the same poem, purposely denuded of obvious emotionality, but still with a certain low-key intensity, hewing more closely to its inherent rhythmicality.
Of course, this implies that the speaker of the former reading is not he of the latter. We have the freedom to imagine expansively, rather than simply suffer the constraint of acting with reference to one's own remembrance of personal emotionality. The result: a dramatic (no pun intended) difference in the ideas ultimately conveyed.
August 1, 2016
I'm very pleased to have been hired to narrate the non-fiction title, Horse Tricks, by Keith Hosman, a well-known Texas horse trainer, for use by his equestrian clientele throughout the U.S.
July 14, 2016
July 5, 2016
I am very pleased to announce that Deyan Audio (www.deyanaudio.com) has added me to the casting roster. Please visit their site for more about this fine audiobook producer and their (extensive) credits and awards.
June 25, 2016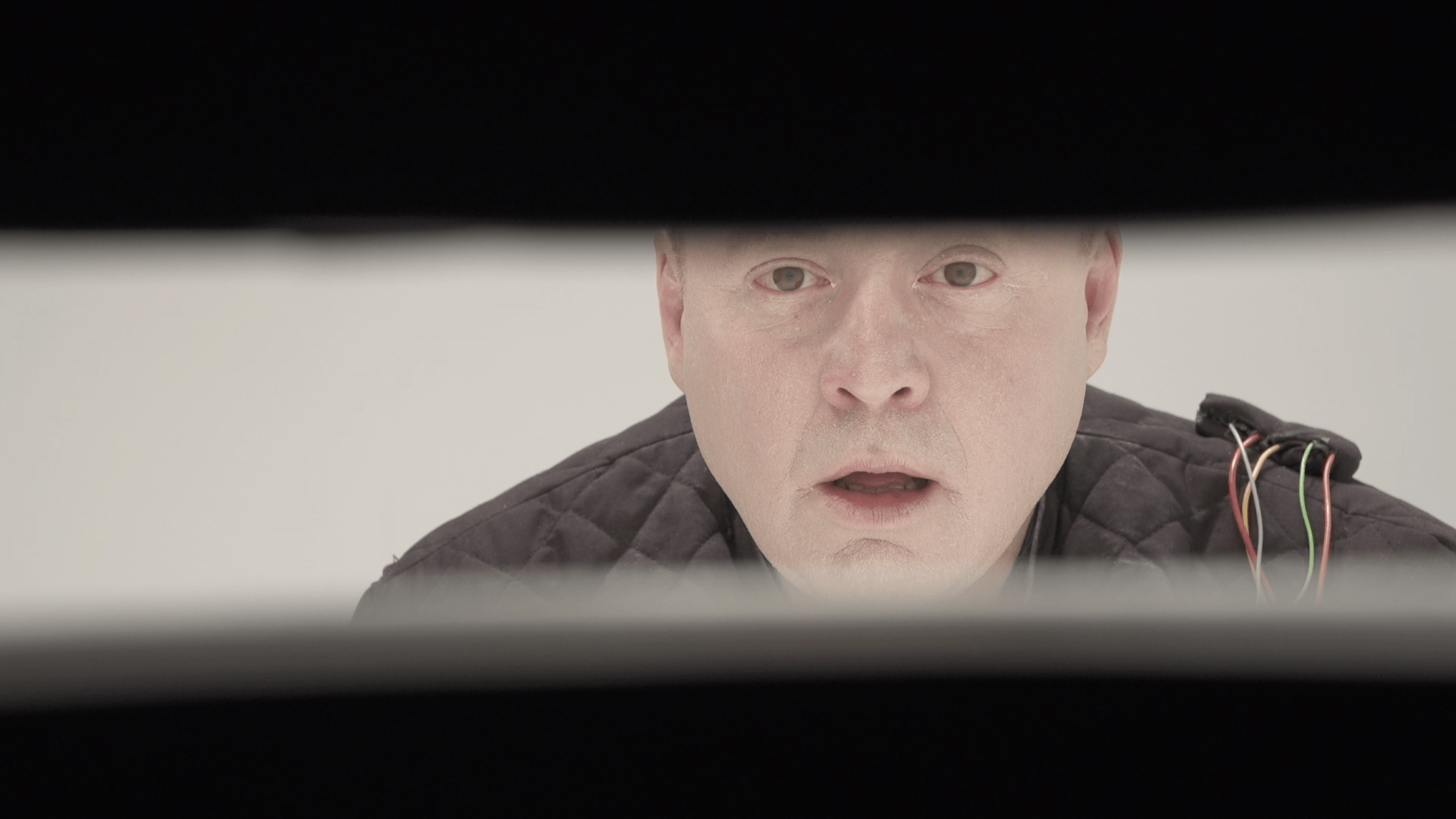 ZERO-TWO, in which I play the lead (and sole character on screen) premieres at the AFS Cinema in Austin, TX, tomorrow, Sunday, June 26, 2016 at 4 PM. $5.00 Details here.
This SAG-AFTRA short film is the production of a group of young filmmakers, led by Elisabetta Lucia Diorio.  "Young" gives a mistaken impression. I should say, rather: youthful, but very advanced and capable for their apparent ages. I think you'll be surprised and delighted by the work. Music has been scored and dance choreographed for it — all by Austin talent.
June 16, 2016
At this passage, I sighed with relief and distinct pleasure — as with an oasis found in the desert.
"…we are not seeking the credibility of true truth, the real or the truth of "realism," but rather, that of formal exaggeration. We demonstrate a recognizable, known truth, but in a different form than that found in reality. This truth is deformed, excessive, so as to confer on the represented fact the sense of an exemplary occurrence."
–Antonio Fava, the great practitioner of Commedia dell'Arte, in his "The Comic Mask in the Commedia dell'Arte."